The DBR10 is the most compact model in its series and in its class. Capable of delivering a maximum SPL of 129dB from its compact enclosure, the DBR10 can be used as a utility speaker in a variety of environments.
High-Efficiency 1000W Class-D Amplifiers
The DBR's lightweight, high performance Class-D amplifier is capable of producing up to 1000W* of power, achieving an SPL of 132dB, delivered with remarkable clarity and dynamic characteristics.
Easy-to-use Onboard 2-Channel Mixer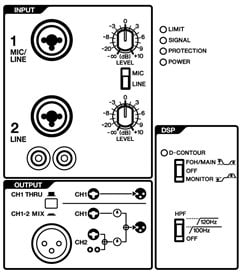 DBR Series speakers have two input channels. CH1 has a combo jack which accepts both XLR and TRS Phone allowing for either Mic or Line level input signals. CH2 offers two input options; a combo jack that accepts XLR or TRS Phone, and an RCA pin jack for input from CD players or other stereo line-level sources. The onboard mixer allows you to select either CH1+2 MIX to mix the signal of CH1 and CH2, or CH1 THRU to pass the signal from CH1 only.
Smart Enclosure Design for Floor Monitoring

DBR Series speakers feature an optimized 50°wedge angle for floor monitoring. In addition the DBR12 and DBR15's symmetrical shape allows for effortless configuration of a mirror-mode floor monitoring system in either symmetrical or stereo sound field setups.
Rigging Points for Installation Applications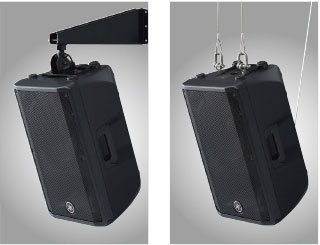 DBR loudspeakers come equipped with M8 rigging threads, allowing for rigged applications with optional speaker brackets or standardized eye-bolts.
*Speaker brackets and eye-bolts are not included